Steven Haguewood was born in 1971 in Anderson, SC.  He graduated high school in 1990 and went to Freed-Hardeman University a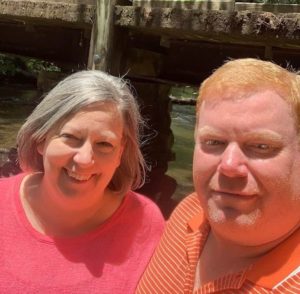 nd studied psychology.  He met Jennie Bang there and they were eventually married in 1993.  In their 28 years together, they had 4 children: Christopher, Brandon, Rebecca, and Bethany who have given them 5 grandchildren with one on the way.  After spending several years doing commercial construction work, Steven went back to Freed-Hardeman and finished his B.S. in Bible and graduated with his M.A. in New Testament in 2006.
Steven has preached in local works in Theo, MS, North End church of Christ in Parkersburg, WV, and now is with the Augusta Road congregation.  In West Virginia, he served as director for junior week at the West Virginia Christian Youth Camp and for senior week at the Ohio Valley Christian Youth Camp.  He taught Bible classes at Ohio Valley University in Vienna, WV, was on faculty at the West Virginia School of Preaching, and teaches online classes for Freed-Hardeman University.  Steven has also preached meetings in MS, WV, OH, TN, and SC and done mission work in Haiti, Nigeria, and China.