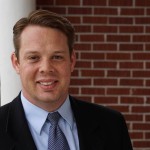 Dustin Forthun
March 8, 2016
B-I-B-L-E
A study using the word Bible as an acronym.
The B-I-B-L-E, yes that's the book for me.  The Bible is a book for the ages.  Sometimes referred to the Good Book, the Bible needs to be the book for us all.
When considering the Bible a host of thoughts rush into people's mind.  I hope that these following principles are among them.
B-is for Basis.  The Bible is the basis of our relationship with God.  In it is the basis for law, both civil and moral.
I-is for Inspired.  The Bible is inspired by God.  It has survived all these many years and has had such a wonderful impact on the world because it is the very Word of God itself.  The word "inspired" come from a Greek word meaning "God-breathed."  When we read the Bible, we are reading the inspired Words of God as if He had spoken them Himself.  "All scripture is given by the inspiration of God…" (2 Tim. 3:16).
B-is for Battle.  "We wrestle not against flesh and blood, but against principalities, against powers, against the rulers of the darkness of this world, against spiritual wickedness in high places" (Eph. 6:12).  In this battle in which all of God's people fight, God's Word, the Bible, is our "sword of the Spirit" (Eph. 6:17) which allows us to "stand against the wiles of the devil" (Eph. 6:11) and "to quench all the fiery darts of the wicked" (Eph. 6:16).
L-is for Love.  The Bible shows the love of God to a world of sinners (Jn. 3:16; Rom. 5:8; etc.).  The Bible also teaches us how to show our love for the Father (Jn. 14:15).  While to Bible is much more than a love letter, it does indeed exalt the love of God.
E-is for Everlasting.  "For all flesh is as grass, and all the glory of man as the flower of grass.  The grass withereth, and the flower thereof falleth away:  But the word of the Lord endureth for ever.  And this is the word which by the gospel is preached unto you" (1 Pet. 1:24, 25).  The Word of God will follow us all into the Judgment (Jn. 12:48); it is everlasting.
May we all choose the Bible as the book for us and our families.